Public Participation Plan
Public Notice:
PROPOSED UPDATE TO PUBLIC PARTICIPATION PLAN – PUBLIC REVIEW AND COMMENT OPPORTUNITY
Notice is hereby given that the Fargo-Moorhead Metropolitan Council of Governments (Metro COG) is seeking public comments on a draft update to its Public Participation Plan (PPP). Metro COG's PPP defines a process that provides citizens, stakeholder groups, and other interested parties with reasonable opportunities to be involved in the transportation planning process. The document includes Metro COG's policies and procedures for carrying out public engagement, scheduling and notifying the public of public meetings and input opportunities and both documenting and addressing public input in the planning process.
The draft update of the PPP may be viewed on Metro COG's website at the following link: http://www.fmmetrocog.org/PPP. A digital copy (pdf) of the proposed draft PPP will be emailed upon request by emailing Metrocog@fmmetrocog.org. A paper copy of the document may be obtained at Metro COG's office at One 2nd St N, Suite 232, Fargo, ND 58102. To request a mailed copy of the proposed PPP, call Metro COG at 701-232-3242.
Public comments will be accepted from 8:00 AM Wednesday, October 26, 2022 through 5:00 PM Friday, December 9, 2022. Public comments may be mailed to Metro COG, 1 - 2nd Street N, Suite 232, Fargo, ND 58102, or emailed to Metrocog@fmmetrocog.org. Verbal comments will be accepted by phone at 701-532-5100 and will be documented.
Comments received will be presented to the Metro COG Policy Board at their regularly scheduled meeting on December 15, 2022 at 4:00 PM, at Metro COG, 1 - 2nd St N, Suite 232, Fargo, ND 58102. At that time, Metro COG staff will also explain any changes recommended as a result of the public comments received, and will recommend adoption of the updated PPP.
Metro COG is committed to ensuring all individuals regardless of race, color, sex, age, national origin, disability/handicap, sexual orientation, or income status have access to Metro COG's programs and services. Meeting facilities will be accessible to mobility impaired individuals. Metro COG will make a good faith effort to accommodate requests for translation services for meeting proceedings and related materials. Please contact Savanna Leach, Metro COG Office Manager, at (701) 532-5100 or leach@fmmetrocog.org at least three (3) days in advance of the meeting if any special accommodations are required for any member of the public to be able to read the document or participate in the meeting.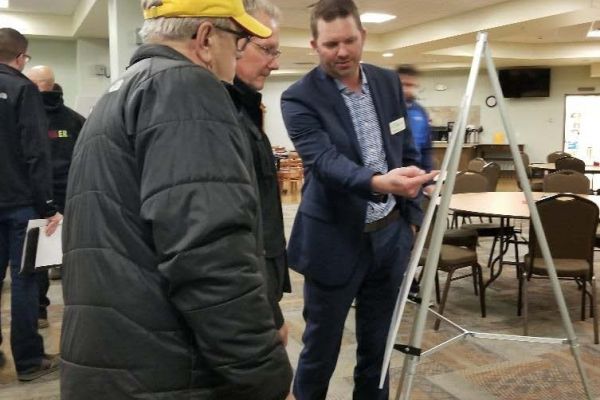 About the PPP
Metro COG believes citizens should be a part of the planning process, not simply learn about plans after the fact. Metro COG strives for a planning process that is transparent, understandable, and allows for two‐way communication. The purpose of Metro COG's Public Participation Plan (PPP) is to identify opportunities for the public to get involved in transportation planning process for the Metro COG region. The plan includes methods to increase public awareness and understanding, as well as policies to provide complete and timely information to the public and transportation stakeholders.
Public participation in the transportation planning process is important for a variety of reasons:
Public involvement is an important element of a high quality transportation planning process, not a simple "add on" to meet federal requirements;
Effective transportation planning must include the participation of those whose everyday lives are critically affected by how they are able to get to work, home, school, shopping, and local services;
Citizens have the right to participate in transportation decisions that affect their community and way of life;
Citizens have knowledge and insight into local problems that Metro COG staff planners and the Policy Board need to make informed decisions; and
Robust citizen participation strengthens the democratic process and improves the likelihood that plans will be implemented.